HANKOOK CONDUCTS SAFE DRIVING COURSE FOR STUDENTS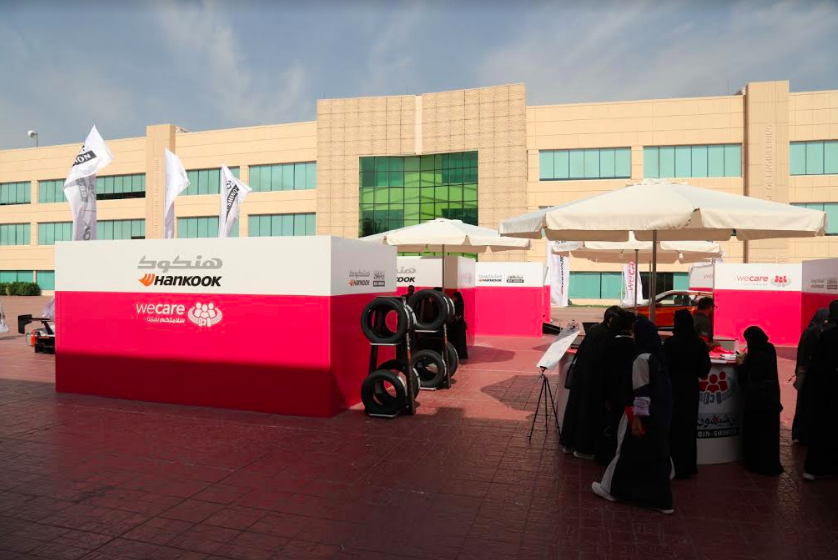 As part of its commitment to ensure safety driving on the road, Bin-Shihon Group, the exclusive distributor for Hankook tires, organized a recent intensive education course entitled "Safe driving" in collaboration with Effat University.
The initiative called "we care" comes in recognition of the importance of raising awareness of full compliance with traffic regulations and rules to achieve road safety for female road users after allowing women to drive.
360 students received training on the most important safety elements that every driver has to learn to avoid the dangers of the road and achieve the highest standards of driving confidence that is reflected positively on the driver.
The course was presided and delivered by a special team led by the Saudi champion Saeed Al-Mouri, captain of Hankook Racing team. The course was divided into three sections. The first section included general information about safe driving. The second part focused on the safety aspects of the interior of the vehicle and the most important part of the course was to highlight the defective vehicles and auto parts can cause accidents.
Upon successful completion of the program, participants were fully involved in a competition in order to determine what trainees learned during the course. Later, participants posted thier information on their social media accounts and eventually, winners were chosen based on how many likes they have received from the followers.
On the occasion, Mr. Marwan Bin Shihon VP at Bin-Shihon Group explained that the training course comes within the efforts of the General Directorate of Traffic, Effat University and Hankook to enhance road traffic culture of students and encourage them to abide by the traffic regulations and avoid their violations, which will curb road traffic accidents, limit traffic congestion and other negative traffic phenomena.
He added "The training course aimed to spread awareness about safe driving initiatives, building women's road confidence, automotive knowledge, and traffic skills to achieve safety while driving among female students.
In conclusion, Hankook tires have provided a range of digital safety tools to students that help track correct tire pressure measurements and a booklet that explains how to properly handle any tire emergency and others.